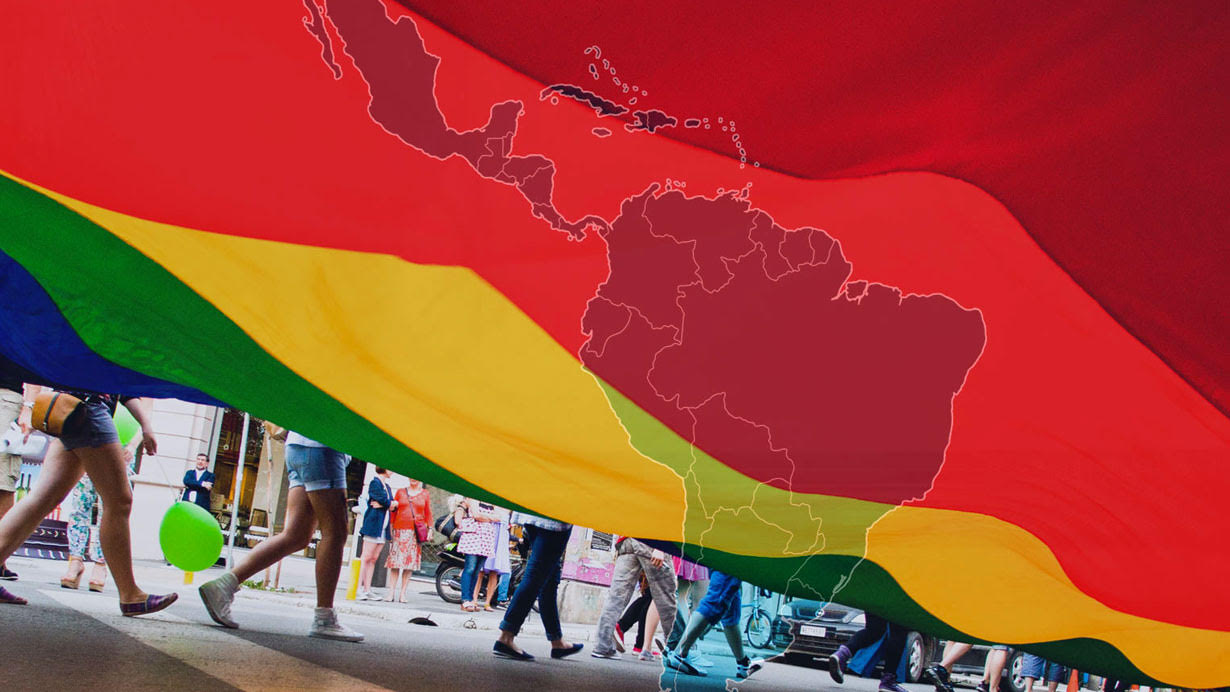 Another first for InquireFirst!
Cross-border science/ health project is published by Tangible and El Universal, demonstrating the power of collaborative journalism in Latin America
We're thrilled to announce that our first cross-border science and health project was published on November 4 by the Mexico City daily newspaper El Universal and the digital magazine Tangible.
This in-depth report titled, "Trans in Latin America," was reported and written by four prominent science writers and focuses on how legal barriers and discrimination limit the trans community's access to medical treatment. As a sad result, the life expectancy of trans persons in Latin America is between 35 and 41 years, compared with a regional average life expectancy of 75 years.
Tangible editor Iván Carrillo served as editor of the project, which received support for reporting grants from the Howard Hughes Medical Institute's (HHMI) Department of Science Education. Our project was published in Tangible and in El Universal in collaboration with Fundación Ealy Ortiz and InquireFirst.
We invite you to read this impressive project on the Tangible website at: https://interactivo.eluniversal.com.mx/2019/transgenero-transfronterizo/
Our goal in funding this project was to encourage collaborative science writing across international borders, strengthening regional science, health and environmental stories by multiplying the number of reporters, editors and visual journalists working on high-impact reports on issues of regional importance.
The reporters on the team were selected during our Jack F. Ealy Science Journalism Workshop, which we held on July 1 in Lausanne, Switzerland during the 2019 World Conference of Science Journalists (WCSJ2019).
On the reporting team are:
Carmina de la Luz Ramírez, a freelance science journalist whose work is published regularly in El Universal, the largest daily newspaper in Mexico. She writes about a broad range of topics and has a special interest in covering stories about social aspects of science such as gender perspectives, policies and investments. Carmina is a member of the Mexican Network of Science Journalists (RedMPC).
Debbie Ponchner, a science journalist with more than 15 years of experience in print and digital media, as well as newsroom management. Debbie is based in her home country of Costa Rica where she leads DP Comunicación Estratégica, a company devoted to improving the communication of science.
Valeria Román, a freelance science writer based in Argentina who writes about science, health and the environment for Science,Nature and Scientific American, as well as Infobae.com, SciDev.net and Forbes Argentina.
Margaret López, a science and economic reporter based in Venezuela who is the editor of HispanoPost Media Group and a collaborator with SciDev.net.
Iván Carrillo, is the editor of this cross-border health project. He serves as editor of Tangible, which is a digital magazine of the Mexico City daily newspaper El Universal,Iván is the anchor of the program Los Observadores on Mexico's TV Azteca and a writer for National Geographic and Newsweek en Español. He has also worked with Discovery Channel and CNN en Español.
This is only the beginning! We plan to launch a series of cross border projects in the months ahead so keep checking our InquireFirst website for more excellent regional reporting.
---
InquireFirst Executive Director Lynne Walker calls for international collaboration on investigative journalism during Mexico City graduation speech
MEXICO CITY – InquireFirst Executive Director Lynne Walker urged Latin American journalists to conduct "more and better journalism" in the face of attacks on the press during a graduation speech at a prestigious university in Mexico City.
"There is a frontal attack on journalism around the world," Walker said. "What are we going to do about these false attacks on our credibility and the quality of our work? We are going to close ranks. We are going to respond with more and better investigative journalism."
Walker made her remarks during an August 21, 2019, graduation speech delivered to almost 50 reporters from throughout Latin America who completed an eight-month, 125-hour certificate course in investigative journalism.  The course is developed and directed by the Tecnológico de Monterrey and sponsored by FEMSA, the largest bottler of Coca-Cola products in the world.
The graduation ceremony marked the 10th anniversary of the Tecnológico de Monterrey/FEMSA certificate program for investigative journalists. Almost 1,200 journalists from 12 Latin American countries have participated in the program over the past decade.
Walker said that during her work over the past 10 years in 10 Latin American countries, she has encountered an army of journalists with a profound commitment to freedom of the press, freedom of expression and to informing their audiences with integrity, credibility and honesty.
She said that increasingly journalists and news organizations are collaborating, rather than competing, on investigative reporting and noted the trend is strengthening journalism in the region.
Walker urged journalists to adhere to the highest ethical standards and to be certain that everything they report is "confirmed, verified, balanced and objective." When an error is made, she said "we have to recognize the error and correct it immediately and prominently."
Walker reminded the journalists they are a pillar of democracy and emphasized that their work is crucial.
"You are our hope for the future, our hope for journalism and for democracy in your countries," Walker told the graduating journalists. "Your work is essential in order for democracy to reach its full potential.  On this important occasion, I want to underscore how important you are for the future of your countries."
---
InquireFirst instructs investigative journalism workshops in Medellin and Cali
MEDELLIN, Colombia – InquireFirst Executive Director Lynne Walker will meet with journalists in Medellín and Cali, Colombia, July 29-August 3 to discuss new techniques for investigative journalism.
During the programs, Walker will conduct interactive sessions with journalists who are covering corruption, organized crime and public safety issues.  She will focus her workshop sessions on journalist safety as well as effective interview techniques and narrative writing.
Some 30 journalists are expected to attend each of the two-day workshops in Medellin and Cali, with additional journalists from prominent media organizations joining the group for receptions at the close of each of the programs.
Walker will also meet with directors of Colombia's largest media organizations, as well as with leaders of the journalism program at top universities.
There's more news from Colombia – Medellin will be the site of the 2021 World Conference of Science Journalists (WCSJ2021)!!
Walker will also meet with Colombian science writers who are organizing the WCSJ 2021, which is expected to host almost 1,000 science writers from regions throughout the world.
This is an important moment for journalism – and particularly cross-border journalism – in Latin America.  InquireFirst is proud to work with colleagues in South America, Central America and Mexico in their efforts to strengthen journalism in the region.
In July, InquireFirst awarded our first reporting grants to a team of Latin American science writers to support their work on a cross-border regional health story.
The reporters on the team were selected during our Jack F. Ealy Science Journalism Workshop, which was held on July 1 in Lausanne, Switzerland during the 2019 World Conference of Science Journalists (WCSJ2019).
InquireFirst received support for the reporting grants from the Howard Hughes Medical Institute's Department of Science Education.
The project will be published in Tangible (https://bit.ly/2Owojqu), an online science magazine based in Mexico, as well as the online edition of El Universal, the largest daily newspaper in Mexico. Our projected publication date is October 2019, so stay tuned for more information https://inquirefirst.org/
2019 Symposiums
InquireFirst Executive Director S. Lynne Walker will organize and instruct journalism symposiums in 2019 on investigative reporting and safety protocols, digital storytelling and science, health and environment coverage in Mexico, Central America, South America and the Caribbean. The symposiums will be presented in Spanish.
---

Will the United States continue to be a country where people can turn on the tap and assume the water that comes out is safe and affordable? In this, the first major report in InquireFirst's long-term drinking water project, reporter Elizabeth Douglass travels to Lake Station, Indiana, to begin answering that question by exploring the growing pressure on cities and towns to privatize their municipal drinking water systems.
View photos by John Nelson/InquireFirst
Journalists
Board of Directors
Advisory Council
Staff
Interns