Gabriela Minjares, an investigative journalist who is co-founder of La Verdad de Juárez in Ciudad Juárez, México, reports that her news organization received a grant in June 2019 from the International Center for Journalists which is providing seed funding and technical assistance to develop new business models to ensure the economic sustainability of La Verdad de Juárez. Gabriela credits InquireFirst's February 2019 Transparency and Investigative Reporting Workshop with providing her with new ideas which she and her colleagues included in their successful grant proposal.
Aldo Benítez, deputy editor of the in-depth Sunday section of La Nación in Asunción, Paraguay, conducted a 4-day workshop at the Escuela D Periodistas in May-June 2019 during which he taught Paraguayan journalists the tools and techniques he learned during InquireFirst's February 2019 Transparency and Investigative Reporting Workshop. The subjects he covered included interview techniques and ethical treatment of sources; steps for reporting and writing an investigative report; and cybersecurity protocols.
Lucía Mimiaga, editor of the Investigative Unit of El Debate in Culiacán, Sinaloa, produced a documentary about femicides and the disappearance of women in Mexico which generated a high number of views on the newspaper's FaceBook page. Lucía says the interview techniques she learned during our Transparency and Investigative Reporting Workshop helped her with the delicate and sensitive interviews needed for this project.
Gustavo Cabullo Madrid, a transborder documentary producer who works with the Universidad Autónomo de Ciudad Juárez, reports that based on presentations by prominent journalists and professors during InquireFirst's February 2019 Transparency and Investigative Reporting Workshop, he is now collaborating with the career coordinator at the university to offer sessions to journalism students on fact-checking, cybersecurity, protection of data and equipment, high-impact reporting and backpack journalism.
Mariana Mondragón, general director of NotiGAPE Radio in Matamoros, México, conducted an investigative journalism conference for journalism students at the University of Matamoros in May 2019.  Mariana says she instructed the students – the next generation of journalists in Matamoros – on tools and techniques for investigative reporting that she learned during InquireFirst's February 2019 Transparency and Investigative Reporting Workshop.
Paraguayan television reporter Enrique Dávalos has been invited by the Public Affairs Section of the U.S. Embassy to give a presentation on what he learned during our February 2019 workshop during a journalism and transparency conference in Asunción in May 2020.  InquireFirst Executive Director Lynne Walker has been invited to give the keynote address during that conference and will be traveling to Paraguay in May.
Inés García, an investigative journalist at the weekly newspaper Zeta in Tijuana, México, is organizing an investigative journalism workshop in collaboration with Red Nacional Anticorrupción Capítulo Baja California, an NGO focused on transparency. Inés tells us that she will be teaching the tools and techniques that she learned from seasoned journalists who gave presentations during InquireFirst's February 2019 Transparency and Investigative Reporting Workshop.
2020 SYMPOSIUMS
February 16-20, 2020
Merida, México
Unearthed: How Investigative Journalism Can Change the Environmental Landscape in Latin America
This unique program will bring together environmental journalists from throughout Latin America for an intensive professional development workshop focusing on climate change, cross-border air and water safety issues, preserving biodiversity, and the impact of deforestation on the Western Hemisphere.
A key session during the program will be a visit to a biological reserve to meet with farmers who are attempting to abandon the centuries-old practice of deforestation and rely on ecoturismo for their income. Journalists will discuss with farmers the economic and environmental results of this program to rescue critical areas of the jungle from destruction.
April 26-29, 2020
Mexico City, México
Science and Health Symposium
This seminar will focus on urgent health issues in Latin America such as cancer and diabetes and HIV, as well as public health issues such as resistance to vaccines and sexual and reproductive rights. More than 40 journalists and health care professionals from Argentina, Brazil, Chile, Colombia, Peru and Mexico will attend the high-level seminar in Mexico City.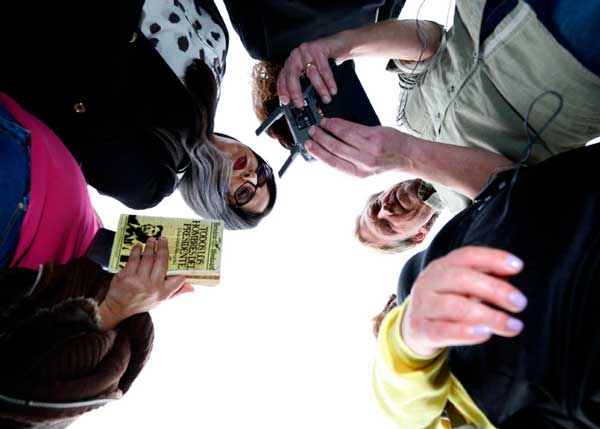 September 20-25, 2020
California State University Fullerton
Investigative Journalism and Government Accountability
Top U.S. journalists will join InquireFirst as speakers at this workshop, which will offer sessions on fact-checking, in-depth investigative reporting and cyber security.
The workshop will equip a team of Latin American journalists with investigative skills to produce deeply reported and carefully fact-checked investigative reports that lead to greater transparency in their countries.  The workshop also built professional alliances that encourage journalists to conduct cross-border reporting on high-impact regional investigative stories.