Top U.S. journalists instruct Transparency and Investigative Reporting Workshop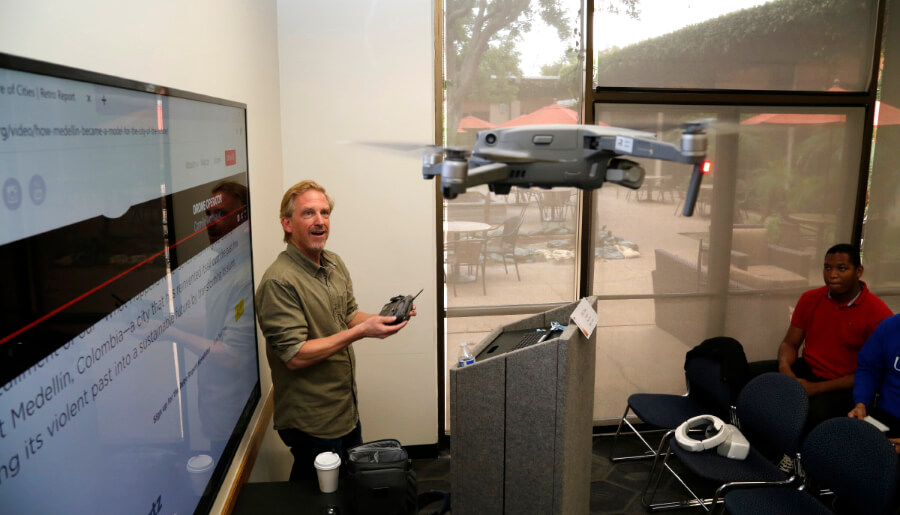 FULLERTON, Calif. – Top U.S. journalists joined InquireFirst as speakers at our "Transparency and Investigative Reporting" workshop Feb. 25-March 1, when Latin American journalists traveled to Southern California to attend sessions on fact-checking, in-depth investigative reporting, cyber security and reporting with drones.
Among our speakers were:
Ginger Thompson, senior reporter at ProPublica who specializes in immigration and organized crime coverage. Ginger and her colleagues at ProPublica won a Polk Award in the immigration category in February 2019 for their "Zero Tolerance" series on the Trump administration's policy at the border.
Sal Rizzo, reporter at The Fact Checker at The Washington Post who previously covered New Jersey politics, courts, state finances and Gov. Chris Christie.
Erik Olsen, a Los Angeles-based video journalist who previously was the West Coast video correspondent for Quartz. Before joining Quartz, Erik was a senior video journalist for The New York Times. He is now focused on reporting with drones.
Eileen Truax, an InquireFirst journalist whose work focuses on immigration and politics and has been published in the U.S., Latin America and Spain. Eileen is the author of four books, including, "Dreamers: An Immigrant Generation's Fight for Their American Dream."
Walter Baranger, who left his position as senior editor of news operations at The New York Times last year. One of Walter's many roles at the Times was to travel to foreign bureaus and shore up cyber security. Walter, who is now VP of InquireFirst, will give a presentation on protecting information and equipment from cyber attacks.
We held the workshop on the California State University, Fullerton (CSUF) campus, where Walter is on the journalism faculty. Our partners for this workshop are the Latino Communications Institute at the CSUF College of Communications and the Latino Journalists Club.
The workshop equipped a team of Latin American journalists with investigative skills to produce deeply reported and carefully fact-checked investigative reports that lead to greater transparency in their countries. The workshop also built professional alliances that encourage journalists to conduct cross-border reporting on high-impact regional investigative stories.
In Collaboration With