InquireFirst leads regional Science and Health Journalism Seminar in Mexico City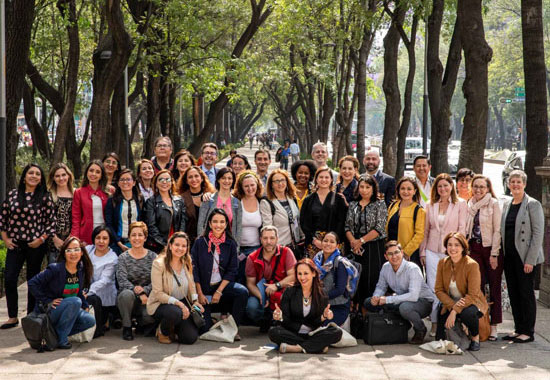 MEXICO CITY – "Writing is music…language can be used in so many creative ways," Deborah Blum, director of the Knight Science Journalism Program at MIT, told almost 30 science and health journalists attending our regional workshop in Mexico City.
As Blum lead journalists through an interactive workshop on narrative science writing, she told them "we are the best people in the world to remind people that science is a part of their daily life."
Blum was the keynote speaker on the final day of our March 31-April 3, 2019, regional Science and Health Journalism Seminar which InquireFirst organized in collaboration with MSD. Journalists from major media organizations in Argentina, Brazil, Chile, Colombia, Peru and Mexico attended our first InquireFirst regional workshop conducted in Mexico City.
"Excellent," one journalist said about Blum's teaching session. "It is refreshing to hear how journalism is done in other places and to investigate and analyze the tools we have within our reach to do better journalism."
This seminar focused on urgent health issues in Latin America such as cancer and diabetes and HIV, as well as public health issues such as resistance to vaccines and sexual and reproductive rights.
As the journalists heard from prominent MDs and researchers, Blum told them, "we recover lost science. There's no one better to do it than science writers."
Also joining us for an interactive session was Mariana Alvarado, training fellow for Google News Lab in Mexico, Central America and Colombia.
Alvarado showed journalists how to use Google on-line tools to verify information before publishing.
"We are in a unique and challenging moment for quality journalism," she said. "It is more difficult to assure people that they are consuming accurate information."
Among the speakers were:
Dr. Carlos Espinal, head of the Global Health Consortium at Florida International University, who said that by 2050 microbial resistance to antibiotics will claim more lives worldwide than cancer.
Dr. Javier Baez, who treated the first HIV case in Mexico. Today, Brazil has the highest reported number of HIV/AIDS in Latin America, followed by Mexico, Colombia, Argentina, Peru and Chile.
Dr. Carlos Barrios, director of the Oncology Research Center at Hospital São Lucas in Brazil, who noted that while the prevalence of cancer is lower in Latin America than in the United States, more people die of cancer in Latin America due to a complex and often inaccessible health care system.
Dr. Carla Vizzotti, director of the National Program of Immunizations in Argentina, who spoke about the public resistance to vaccines. "Vaccines are victims of their own success," she said.
Dr. Claudio González, director of MSD Global Medical Affairs, who talked about the increase in diabetes in Latin American countries. Mexico ranks first in the region.
Dr. Raffaela Schiavon, advisor on health and sexual and reproductive rights in México, who said that Latin America ranks second in teen pregnancy after Africa.
Javier Picó, a partner in Life Sciences Consultants in Mexico City, who spoke about the impact of biopharmaceutical innovation in Latin America.
Frank Lichtenberg, business professor at the Columbia Graduate School of Business, who said the medical industry is the most labor-intensive sector of the economy, making it an important engine of economic growth.
The response from the journalists attending the seminar was overwhelmingly positive.
"This was an enriching seminar which, unlike others, not only presented health issues but also gave instructions on tools like Google," said one journalist.
"Worth its weight in gold for reporters," said another journalist. "The more tools we have, the more we can document our work."
In collaboration with