Biodiversity and climate change are the focus of InquireFirst environmental investigative journalism workshop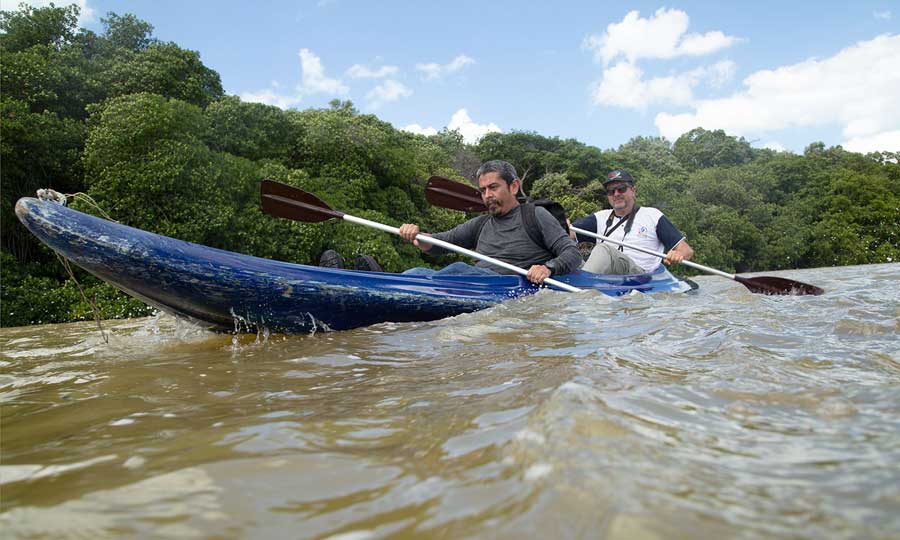 MERIDA, Mexico – "There's no more important work than the work being done by journalists," said Brian O'Donnell, director of Campaign for Nature, during a February 2020 environmental investigative journalism workshop organized by InquireFirst.
As the world witnesses a "massive acceleration in extinction" of species, coverage of biodiversity by environmental journalists can underscore the growing crisis and the need for large expanses of land and sea to be protected from logging, agriculture and fishing, he said.
O'Donnell told 21 Latin American journalists who attended the InquireFirst workshop focused on environmental investigative reporting that as climate change has dominated the news, biodiversity has gotten "just a fraction of the coverage."
With the United Nations Convention on Biological Diversity scheduled later this year, organizers and participants have set an ambitious goal. "We need to protect at least 30% of the planet by 2030," O'Donnell said.
Environmental journalists from throughout Latin America attended the four-day InquireFirst workshop in Merida, Mexico. Print, radio, television and online science journalists from Brazil, Colombia, Peru, Bolivia, Paraguay, Ecuador and Mexico participated in the Feb. 16-20 workshop.
Brazil "is an exceedingly important player in this effort," O'Donnell said of international biodiversity efforts. "For this strategy to work it has to be a global goal. We need to make progress as a planet. Brazil can either be a leader or a blocker."
The InquireFirst workshop, which was sponsored by the Gordon and Betty Moore Foundation and National Geographic, focused on cutting-edge environmental science as well as professional development sessions for journalists.
InquireFirst also announced the launch of its Cross-Border Science Journalism Project, a new initiative to encourage cross-border reporting by Latin American journalists on science, health and the environment, during the workshop. The initiative, which is being conducted in collaboration with the Howard Hughes Medical Institute, will provide financial support in 2020 to four teams of Latin American journalists.
A two-person team, Alexa Vélez of Mongabay in Peru, and Fabiano Maisonnave of Folha de S. Paulo in Brazil, was selected for the first cross-border project, which will focus on the Amazon. InquireFirst has launched a new website on the initiative, HistoriassinFronteras.com.
Gael Almeida, senior international director for Latin America for The National Geographic Society, talked with journalists about effective strategies for pitching story proposals to National Geographic as well as upcoming grant opportunities.
Elisabeth Malkin, correspondent for EcoAmericas and former correspondent for The New York Times in Mexico, spoke about collaborating across borders to conduct environmental investigative journalism in Latin America.
During an intensive training session, journalists worked on fact-checking and the use of data bases for collaborative journalism with Ronny Rojas, editor of Centro Latinoamericano de Investigacion Periodistica and adjunct profession at CUNY's Craig Newmark School of Journalism.
Journalists also attended a half-day session with Jodi Upton, professor and Knight Chair of data and explanatory journalism at Syracuse University, on accessing data for science and environmental journalism.
During a day-long field visit to Celestún, a bioreserve for flamingos and hundreds of other bird species on the Yucatan Peninsula, journalists met with José Isaías Uh Canul, president of Guardianes de los Manglares, a cooperative which protects mangroves and ecosystems in the estuaries of Celestún.
They also talked with two conservation program directors at Pronatura Peninsula de Yucatán, Ernesto Gómez and Anuar Hernández, about the successful rescue of ecosystems in Celestún.
The visit to Celestún included a canoe trip through the mangroves that allowed journalists to witness firsthand the impact of conservation efforts. This unique visit "gave us the opportunity to see the issue in situ," one journalist said.
Journalists said the InquireFirst workshop prompted them to think about opportunities for collaboration on environmental projects and it suggested new approaches for environmental reporting.
"I have learned new things and I've made important contacts," a journalist based in South America said at the conclusion of the workshop. "The workshop served as a stimulus for new ideas. I'm going home with recharged batteries."
SPONSORS