Walker and InquireFirst media partner Fundación para el Periodismo team to offer training to investigative journalists in Bolivia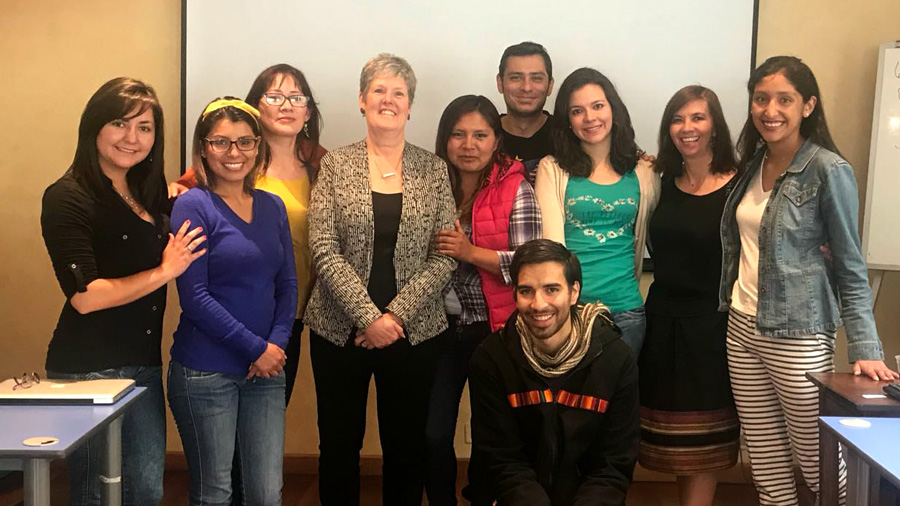 LA PAZ, Bolivia – These were the last days of class for a committed group of journalists who had been studying and reporting and writing all year to earn a masters-level certificate in investigative journalism.
InquireFirst Executive Director Lynne Walker, who worked for several weeks with the journalists on line, traveled to La Paz to instruct them on finding sources and on organizing and writing their stories.
The journalists were working on a wide range of important subjects as part of their final project and thesis. One journalist was working on a profile of a mafia family that controlled bars and table dance operations where human trafficking, prostitution and drug trafficking occurred. Another focused on the city's lack of attention to crumbling infrastructure and change in climatic conditions that resulted in a dramatic decrease in water supply. A third was investigating the brutal mistreatment of domestic and wild animals and lack of enforcement due to nonexistent government funding.
At the conclusion of the Oct. 23-Nov. 11, 2017, workshop, journalists wrote Walker about all they had learned. "Thank you so much for sharing with us your values that we as journalists should put into practice every day," La Paz journalist Susana Lopez wrote on Facebook.
The journalists' projects were the result of an innovative program by the Fundación para el Periodismo (FPP), a nonprofit organization formed in La Paz in 2009 to train the next generation of journalists in Bolivia.
The Fundación, an InquireFirst media partner headed by prominent journalist Renan Estenssoro, has offered media training on a range of subjects since its inception. Now, the Fundación has expanded its outreach to journalists and media organizations by offering funding for investigative projects.
For the past year, the Fundación has provided funding on a project-by-project basis to two news organizations in La Paz: Agencia de Noticias Fides and Pagina Siete, both online publications.
The program is titled "Spotlight," said Estenssoro, and it is supporting organizations like Pagina Siete that shine a light on important, but unreported stories in Bolivia.
In the case of Pagina Siete, "this media organization is shaping its profile as an investigative organization," Estenssoro said.
The Fundación's work was highlighted in a daily bulletin from the American Press Institute newsletter. Read more about the Fundación's work: