When we organize a workshop at InquireFirst, we put journalists to work!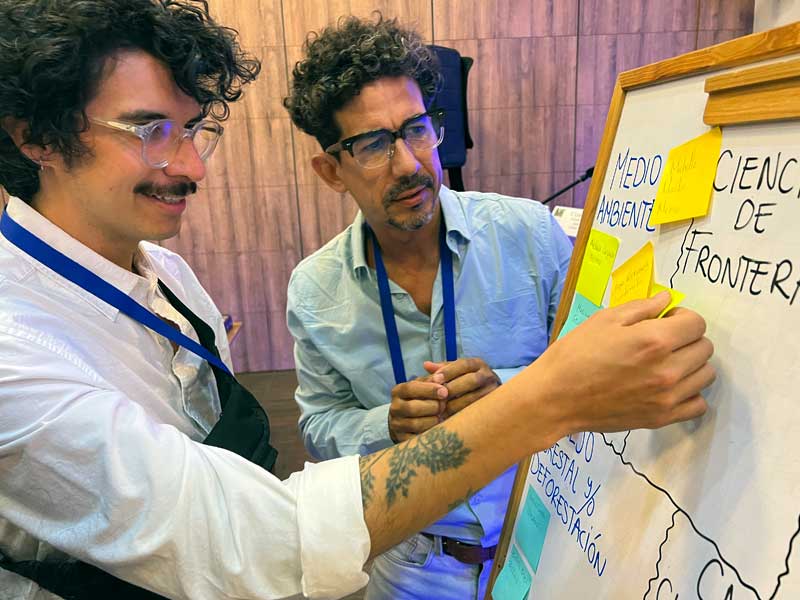 MEDELLIN, Colombia — When we organize a workshop at InquireFirst, we put journalists to work!
That's exactly what happened during our day-long March 27 workshop at the World Conference of Science Journalists in Medellin. Almost 40 journalists from 14 countries joined us for our Historias Sin Fronteras workshop, which focused on strengthening science, health and environmental journalism through cross-border reporting.
We don't want to brag, but we had a 'league of nations' at our workshop, with journalists from Mexico, Guatemala, Costa Rica, Panama, Venezuela, Colombia, Brazil, Argentina, Bolivia, Peru, Ecuador, Puerto Rico, the U.S., Germany and the Netherlands.
We started the day with a lively and informative discussion by Debbie Ponchner, editor of Knowable en español. Debbie talked with journalists about the dos and don'ts of making story pitches to U.S. science editors.
That was the perfect introduction to the day's work, which put journalists in cross-border teams to come up with story pitches.
Inspired by Debbie's talk, the journalists came up with 12 story ideas and made terrific pitches to our workshop group with the goal of being awarded a Historias Sin Fronteras reporting grant.
The pitches were so good that the judges – Historias Sin Fronteras co-founders Iván Carrillo and S. Lynne Walker – couldn't pick just one. So, for the first time in Historias Sin Fronteras history, two story proposals were chosen for grants. We'll be publishing those projects in summer 2023.
But that's not all. On March 28, we conducted a panel discussion with Latin American journalists who've worked on Historias Sin Fronteras projects over the past four years.
Joining Iván on the panel were Valeria Román of Argentina, Eduardo Franco Berton of Bolivia, Johanna Osorio of Venezuela and Ximena Serrano of Colombia.
They talked about the challenges and lessons learned from cross-border science reporting. And they talked about the professional satisfaction of seeing their work published by media organizations across the Western Hemisphere.
Projects by Historias Sin Fronteras journalists have been published by 40 media organizations from Canada to Argentina since we launched at the World Conference of Science Journalists in Lausanne, Switzerland, in 2019. And we're sure there will be more!
Thanks to our Sponsor