Voces Emergentes México team wins state journalism prize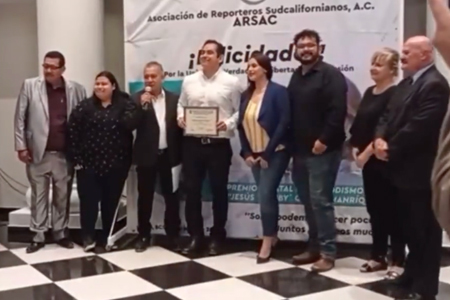 A team of four journalists in Baja California Sur (BCS) was awarded Honorable Mention in the 2022 state journalism awards for their project revealing that mining operations in BCS that are going forward with the support of the Ministry of Environment and Natural Resources despite repeated claims by Mexican President López Obrador that no more mining concessions would be awarded during his administration.
The journalists – Diego Soto, Karina Lizárraga, Adriana Márquez and Mahatma Fong – researched and wrote the investigative report as part of InquireFirst's Voces Emergentes México program for early-career journalists and university journalism students.
Voces Emergentes Mexico, a six-week program held in June-July 2021, offered intensive training to almost 40 journalists and students from Mexico City and from eight Mexican states stretching from Baja California to Yucatán. In the short period of six weeks, the journalists and students produced 12 newsworthy projects that were published by 16 news organizations on both sides of the U.S.-Mexico border.
The project by the BCS team was published by Forbes Mexico, Riodoce, El Sur de Guerrero, La-Lista, and the weekly news magazine Proceso.
"During 2021 the days became longer, because we were part of the first generation of a diploma course for journalists in the areas of in-depth or investigative reporting," Lizárraga said on the day of the awards ceremony. "I thank and congratulate my colleagues for the hard work that is recognized today in our state."
Soto said "this was the first time that I worked with a team on a news story and it was a pleasant and satisfying experience."
"Journalism has no borders!" he said.
Voces Emergentes México was the first of a region-wide intensive training program organized by InquireFirst for early-career journalists and university journalism students. A key focus of the program is collaborative journalism.
During the six-week program, experienced editors guided and advised the young journalists as they researched in-depth news stories and produced multimedia elements such as videos, photo slide shows, audio reports, infographics and interactive maps and timelines.
The second program in the Voces Emergentes series was held in Paraguay in April-May 2022. A new Voces Emergentes program is planned in another Latin American country next year.