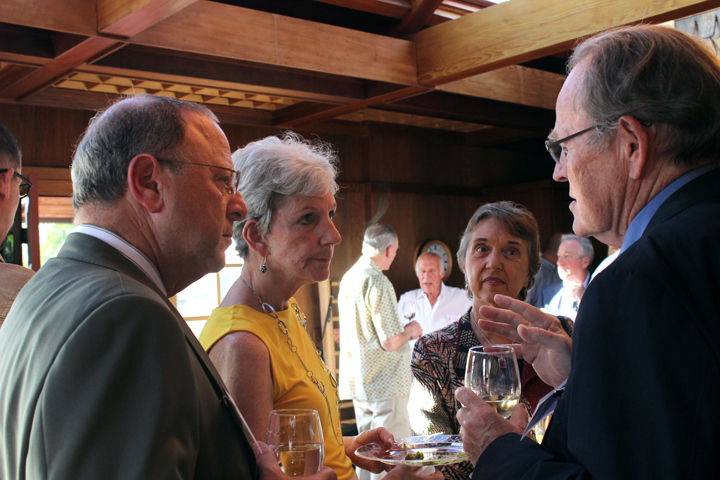 InquireFirst celebrates its launch at April 20 party
SAN DIEGO — InquireFirst officially launched as an online investigative journalism nonprofit at an April 20 gathering attended by more than 50 San Diego business leaders, philanthropists, academics and journalists.

During the launch party, held at the home of former Copley News Service executive Bob Witty, guests heard from journalist Liz Douglass and board member Rosemary Gibson, who are working on the organization's first investigative projects.

Douglass has already begun reporting on the nation's deteriorating water infrastructure, which is undermining something Americans have taken for granted for decades: Access to safe and affordable drinking water. Douglass said her coverage will first take her to Missoula, Montana, and then on to other cities and towns across the country. She expects to publish her first stories in September.

Gibson discussed her reporting on the United States' increasing reliance on China for many of the life-saving medicines we take, which is the subject of a book she is currently researching as well as an InquireFirst investigative project.

Executive Editor Susan White told the audience that she believes the fact-based work of investigative journalists — journalists who abide by the ethical standards that have produced the nation's finest journalism over the years — is needed now more than ever. White co-founded the online investigative journalism nonprofit with 18 prominent journalists.

Executive Director S. Lynne Walker explained that InquireFirst will produce civic-minded journalism and use all the technology at its disposal to arm citizens with the information they need to bring about changes in their communities. InquireFirst is particularly interested in reaching minority communities, youthful populations, rural residents and disaffected voters.

White said each InquireFirst topic must meet one key criterion: It must directly affect the lives of large numbers of people–people who need deeply reported, factual information in order to understand and find solutions to the problems that InquireFirst uncovers.